Chemical name: 5-bromo-3-sec-butyl-6-methyluracil
Common Name: Bromacil
CAS No. : 314-40-9
Structural formula: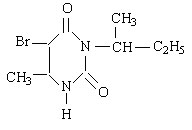 Molecular formula: C9H13BrN202S

Molecular weight: 261.1
Physical properties: colorless crystal solid,melting point:158~159℃, vapor pressure:0.033mPa(25℃),solubility in water: 815mg\l(25℃); in alkali(96g/kg0.9Msodium hydroxide);in acetone 201g/kg;in acetonitrile 77g/kg;in ethanol 155 g/kg; in toluene 33 g/kg.
Use: this product can prevent and remove from rank grass. The dosage is 2-4kg/ha during getting rid of annual grassy weeds, and 1.6-3.2kg/ha for annual grassy weeds in orange gardens, 3.2-8.0kg/ha for perennial grassy weeds and 1.8-5.5kg/ha in pineapple gardens.
Packing: 25kg/bag or 40kg/bucket (adjusting according to requirements of customers).
Storage: paying more attention to drench and humidity during transporting and storing.