ISO name: Flutrlafol

CAS No.: 76674-21-0

Chemical name: (RS) -2,4 '- dichloro-a-(1H-1, 2,4 - triazol -1 - methyl) diphenyl methanol

Structural formula: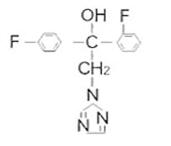 Molecular weight: 301.3

Physicochemical properties:The appearance is colorless crystal solid. Density (20℃)1.41g/cm3, melting point 130℃, vapor tension (25℃)400×10-9Pa, solubility (20℃) acetone 190g/L, methylene chloride 150g/L, methyl alcohol 69g/L, xylene 12g/L, cetane 0.3g/L, water 0.13g/L. stable in para acid, alkali, heat, moist condition.

Action characters:The product is azole fungicide is sterol demethylase of inhibitors, have a role in the prevention and treatment of cereal crops (used 80g/ha), coffee (20-50g/ha), sugar beet (40-60g / ha), fruit trees and grape (10g/ha) on Erysiphaceae head, rust eyes, Ceratocystis spp, Septoria case, Black Star spp bacteria are effective. If 40-100g/ha or 0.8-1.5g/hl rust prevention and control of cereal and coffee, cereals, fruit trees and grape powdery mildew, peanuts, sugar beet leaf spot, apple scab and peanut white rot. Mixed with other fungicides can be a good sight to control cereal diseases, leaf spot and net blotch. Combat wheat rust duration for 4-6 weeks, 3-4 weeks to combat powdery mildew.
Specification: ≥95%
Packing: 25kg bag or 40kg drum.